Special Needs Ryan Gosling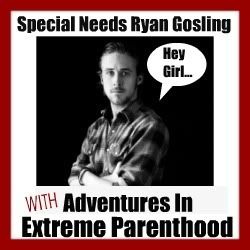 Sunday, at
Adventures in Extreme Parenthood
runs a weekly meme where she posts a picture of Ryan Gosling, an actor that a number of special needs moms apparently find hot, and special needs parent bloggers (mostly moms) add a caption telling what they'd like Ryan to say. This week, I'm trying my hand at it:
Yesterday, Mama Bear sent me the following text:
Hey Guy, thanks 4 all the work u do to make school easier 4 me! Ur support makes all the difference! I love u.
To which I replied:
I thought that txt was from Ryan Gosling. I'm glad it was from you, because you're sexier!
Labels: Special Needs Ryan Gosling